Music: Wilson Wonder – More (Ycee Balance Cover)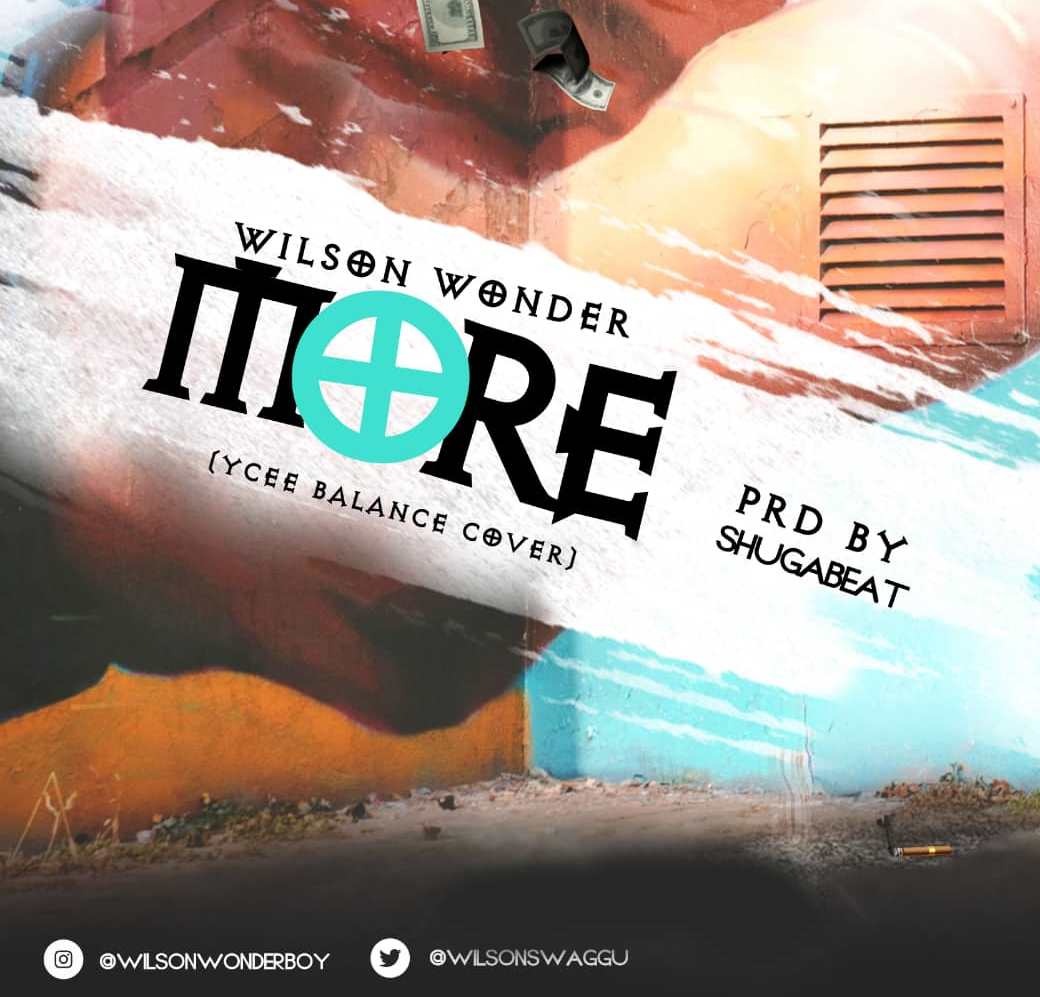 Wilson Wonder (The microphone Wonder Boy) is back with a Cover of Ycee's Rap Hit Single "Balance" and he titles it "More" ,gotten from a beer Brand of Nigerian Brewries Plc"..The Video is expected to drop anytime in November..Listen ,Enjoy and Share
Music was produced by shugabeat.
LYRICS
Legendary bars ,nobody cypha with greatest man
Wilson I'm the Wonder boy ,the rapper wey be jagaban
Do it if you think you better ,ain't nobody than
See I'm the dopest mudafucking rapper wey be swaggerman

Damn,I keep it fly like a pilot,niggaz wan connect cox my zone is the Hotspot
Talk about the greatest with AK I'm tha top shot
But I ain't cut short,look I'm heading to the top spot

Dey tell me Wilson sample on,when I rap dey sing along
You know I speak the truth,no wonder everytime I stand alone
I was made for this bizness,I'm the Chairman like an alcapon
These niggaz dey on lapses,but we cover up like marathon

..I'm tryna stabilise myself like it's Binatone
Always create awareness like an iPhone with the ringing tone
When it comes to battling,I'm used to it I feel at home
I see no competition,man I swear to God I'm home alone

Apparently,currently, I bring the current in
My kinda bars can shock you,like electric with the current in
You rappers should fix up,make we do the correct thing
Niggaz cracking jokes,no be everything be comedy

Liverpool fan ,I never walk alone
It's bone to bone ,we snipe the bars like shakaboom
The flow they boom ,if you doubt me go ask goons
See I'm here to rape the game like a big baboon

Damn it ..Bars full of magic ,I can make you pay me verbally
Niggaz come to me for lyrical help like a herbalist
The way I kill this beat,some people fit vex go dey call police
But everything you ve got,jx be sure I've got more of all it

The street about to take over I guess you know what time it is
The boy's about to takeover I guess you know whose time it is
Y'all pay attention ,even when you stand at ease
Coming with the fire that can burn you down like calories

Alwyas setting pace ,nigga i aint no mediocre
No steering but my nigga I'ma drive you loco
And If you wana blow up nigga ,you can goan beef boko
You should go to Portugal,if you wan fucking C porto

Coal City Rapper, causing other rappers headache
When it comes to killing beat man i'm so unapologetic
Hope you get it,I can shock you like electric
So dey tryna get my data,mhen dis shit is biometric

Listen. .woah woah …z 4 e a0p

I'm an uppercase ,everytime the boy is bold
I'm a sculptor on the microphone,with my lyrics I mould
…Man i'm doing good ,patronage like amazon
Y'all know I keep it real ,when I turn the rhythm on

Yooh. ..I don't mean to gamble,but with the odds I'm a BetKing
It's about time y'all  bow down to the next king
Dey tryna crack us down but we coded with the best pin
i guess you know boy is hot and I aint talking about dry gin

I'm the revelation,y'all should read me from the genesis
I let my words go the magic,ask Peter where Clarance is
I guess you wana roll up,all the home boys doing cannabies
We all about the muller,that's the essence of this bizness ish

The last time I checked,I was the underdog for real bro
But now I'm coming hard,like a shoddy doing dildo
Flow so immaculate,I'm Accurate ,I'm simple
I'm married to the game ,so I had to drop a single

Instrumental massacre ,I'm sorta like a wordsmith
Ok flow dope,my mouth is where the words meet
I wanna have a good time, like am living off shore
I'm not a beer ,but from me y'all should expect more
Listen and Download Wilson Wonder – More Cover below:
We are sorry that this post was not useful for you!
Let us improve this post!
Tell us how we can improve this post?
TAGS